Copenhagen, March 14, 2023 – If you are attending IDS, then you're invited for a hands-on demo of our two new solutions for dental laboratories: 3Shape LMS and the dual model 3Shape F8 lab scanner. If you're not at IDS, then read on.
Solution 1: 3Shape LMS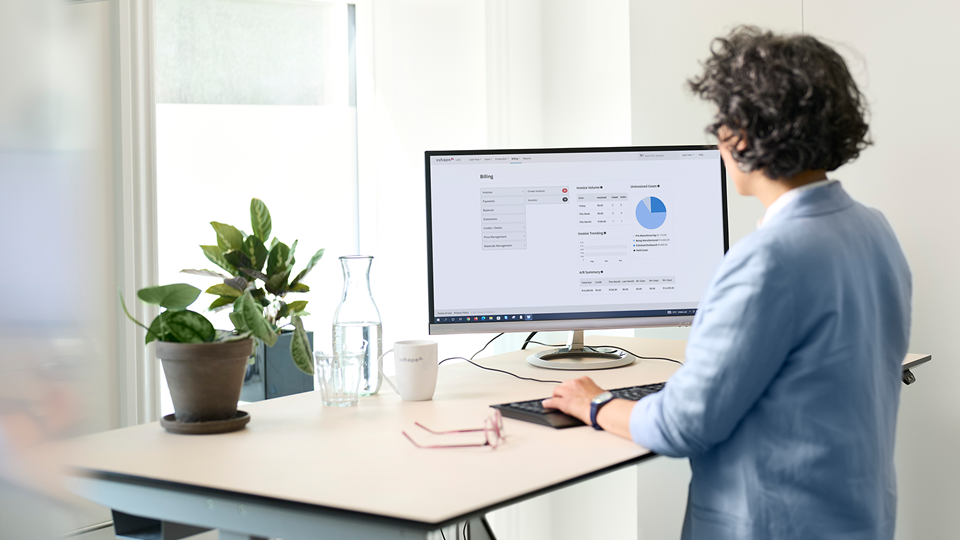 "With this solution, we are helping labs to go next-level digital in an entirely new way. 3Shape LMS provides them with cloud-based integrated workflow management for all types of cases, both digital and analog. We believe that the LMS will empower labs to be more efficient in their everyday tasks and to nurture client relationships through improved customer communications and the detailed tracking of orders, cases, and invoices," says Rune Fisker, 3Shape Vice President of Product Strategy.
Three ways 3Shape LMS helps labs manage their business:
Organize every case - your lab will save time by managing all digital and analog cases in a single, simplified, and compliant system so you can meet deadlines easier.
Transform every client relationship - Designed for transparency, 3Shape LMS helps labs manage doctor expectations and effortlessly collaborate through portals and an app.
Streamline every task - 3Shape LMS reduces data entry with efficient management of production lines, billing, and integrated workflows with TRIOS and Dental System. 3Shape LMS can be used in the lab or remotely.
The new 3Shape Lab Management Software (LMS) is available in two versions.
1. 3Shape LMS Essentials: focuses exclusively on case management and will be available globally later this year. It is free to use.
2. 3Shape LMS Premium: will include case management, client communication, and lab efficiency tools such as billing and production scheduling, is available now in a limited open beta version for select regions.
Learn more about LMS
Solution 2: 3Shape F8 lab scanner
"For a lab, every second counts," says Lee Culp, CDT and CEO of Sculpture Studios.
With that sentiment in mind, 3Shape introduces the new dual model 3Shape F8 lab scanner.
The F8 lab scanner provides labs with unparalleled productivity via incredible scan speeds, dual model scanning, and its unique magnetic place-and-scan operation and open design. F8 innovations minimize the number of interactions a lab technician needs to make with the scanner to save time and improve efficiency.
3Shape F8 highlights:
1. More efficiency – Reduce technicians' hands-on time with the intuitive place-and-scan design.
2. More versatility - Deliver a complete range of quality services to your doctors with less effort.
- Scan the articulator in an upright position
- Triple tray impression and die scanning in one go
- Die-in-model scanning and all-in-one scanning
- Scan accuracy – 4 Microns (ISO 12836)
3. More speed - Stay on top of your caseload with lean, automated scan-to-design workflows.
Discover more about the dual model F8 LAB SCANNER.
The F8 lab scanner is now available in the EU, the UK, and USA.
Please contact a 3Shape reseller, 3Shape representative or check 3Shape.com for availability and purchasing.